Members of Board of Directors
LouElla Marr-Montoya, President
Huie Ley, Vice President
Merideth Hmura, Secretary
Beatrice Hurtado, Treasurer

Oneida L`Esperance, Member
Justine Crespin, Member
Jonathan Madrid, Member


Advisory Board
Derek Benevidez
Rudy Montoya
Bethany Braford

Founding Board of Directors
Matie R. Viles
W. Morris Shillinglaw, Jr.
Eleanor S. Wald
HISTORY of BOARD OF DIRECTORS
As the concept of the Viles Foundation evolved, Matie Viles depended on both W. Morris Shillinglaw, Jr. and Eleanor S. Wald to execute her ideas. Mrs. Viles trusted them, so the natural progression was to invite Morris and Eleanor to become members of her new board of directors. (See Morris and Eleanorís individual biographies on the ďAbout UsĒ drop-down menu.)

Sadly, Mrs. Viles passed away less than two years after the foundation was incorporated. She did, however, enjoy knowing that in those two years, several young girls had received college scholarships.

At the time of incorporation, the By-Laws of the Viles Foundation stated that there were to be three board members. Las Vegas Savings Bank President Dale Gerdeman was invited to sit on the board in 1962 after Mrs. Vilesí death. He remained on the board until 1982. He was chosen because of his expertise in finance and friendship with George A. Viles. Mr. Gerdeman wrote a history of the northern New Mexico Presbyterian Church.
Morris Shillinglaw died unexpectedly in 1963 at age 54. At a Board of Directors meeting held in April, 1963, the following memorial statement was made about Morris.


It is with sadness and a deep sense of loss that the directors of the Viles Foundation record the death of W. Morris Shillinglaw, Jr. on February 12, 1963.

Mr. Shillinglaw served for many years as legal advisor to Matie R. Viles, founder of the Viles Foundation. It was through his insight and legal skill that Mrs. Viles was able to set up an organization through which she could use her resources to accomplish the ends she most desired.

Mr. Shillinglaw was a founding director, vice president and president of the Foundation. His wise counsel and leadership guided the founding directors in their task of setting up framework on which it is anticipated that this Foundation may successfully operate.

The results of educational opportunities made possible to the young people of New Mexico through the Viles Foundation will be a living memorial to Mr. Shillinglaw.



Marvin Taichert, a respected Las Vegas merchant, replaced Morris in 1964. He was interested in the well-being of high school students and served on the board until 1981.
| | | |
| --- | --- | --- |
| In 1964 at the Sixth Annual Meeting, the By-Laws were amended to increase the number of members from three to five. The Rev. Fulton Moore, a Methodist minister and Dorothy Carlson, sister of Morris Shillinglaw were invited to join the board. | | |
From that time forward, the stability of the board has been remarkable. The term of each seat is five years. Many of the current members have been serving for twenty or more years. Dr. Clarence Sanchez, retired Registrar at New Mexico Highlands University was the president of the board for twenty-five years.

In 1998, the board voted to increase the number of members to seven members with an Advisory Committee of three members. The purpose of the Advisory Committee is to allow future board members the opportunity to learn about the foundation and become familiar with the students. They have the right to speak during meetings, joining in a decision process, but do not have a vote.

Four former scholarship recipients have been or are members of the board: Gabriel Blea, LouElla Marr-Montoya, Beatrice Hurtado and Oneida LíEsperance. Other recipients have expressed a strong desire to serve also. Their wish is to repay the gift that was given to them. Felix Alderete resigned from the board because of work commitments, but returned to serve again in 2009.

Others who have served on the board include Frances Mosimann (20 years), Ralph Bowyer (2 years) Gabriel Blea (12 years), Deanna Hoviland (6 years), Diane Gregory (10 years), Martha Johnsen (4 years), Elaine Lewis (10 years) and Bernadette Winston (5 years).
Members of the Board of Directors serve gratis. In the past, there have been two paid secretaries, Nell Doherty and Glenda Gerdeman.


2011 Board of Directors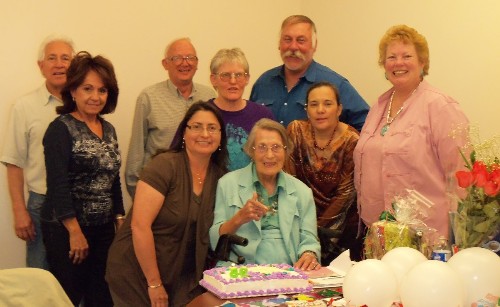 ---



MEMBERS OF THE BOARD OF DIRECTORS



---



†
LOUELLA MARR-MONTOYA, President


Serving since 1986

†
ROBIN CARLSON


Serving since 2004

†
BEATRICE HURTADO, Treasurer


Serving since 1989

†
MERIDETH HMURA, Secretary


Serving since 2005



Although Merideth has only been a member of the board since 2005, she has known the history and importance on the Viles Foundation since she was a young girl. Her mother, Eleanor Wald, worked with Matie and Morris to develop a viable solution to educate orphans. Merideth moved to Illinois in 1972 where she was Office Manager for her husband's construction company. She has returned to New Mexico to live and is proud to be a part of Viles Foundation, Inc.
†
ELEANOR S. WALD, Founding Member


Serving since 1959



During Eleanorís career as an educator, she was dedicated to ensuring that children would have the opportunity to learn. After she retired in 1976, she continued this dedication thru teacherís organizations and thru the Viles Foundation, Inc. She never tires of learning.
†
DR. CLARENCE SANCHEZ, Member Emeritus


Serving from 1980 to 2012

†
HUIE LEY, Vice President


Serving since 2008




---


ADVISORY COMMITTEE



---



†
DR. CORDELL HALVERSON


Serving since 1992

†
ONEIDA LíESPERANCE


Serving since 2009

†
FELIX ALDERETE


Serving from 1991 - 1999, 2009 to present